2018 Mercedes-Benz GLS Driving Impressions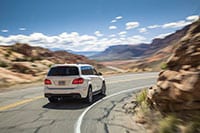 At a glance, the uninitiated observer might dismiss the immense GLS as one more oversize SUV. Instead, it warrants consideration for its powertrain selection, ride quality, and off-road capability.
All three versions handle well, though the experience might feel a bit strange initially, due to the GLS's long, tall body and 8.5-inch ground clearance. Behaving with sport-wagon finesse, the GLS feels like a smaller vehicle, giving the driver a sense of being fully in charge. With standard wheels, the steering feels just about right: neither loose nor light. With variable-ratio steering, response differs at low speeds.
Qualifying as an unabashed heavyweight, the GLS delivers a poised ride, typically buttery-smooth, as the air suspension subdues nearly all rough spots on the pavement. Optional low-profile tires could make the ride a tad jiggly.
Adaptive anti-sway bars struggle to cope with shifting terrain – a challenge with any tall, heavy vehicle. If installed, the optional Active Curve system presses down on anti-sway bars to counterbalance body lean.
Acceleration ranges from strong to scalding, depending on model, though turbo lag may be noticed. The 9-speed transmission might feel excessively "busy" when entering a freeway ramp or conquering a steep, sharp corner. Selectable drive modes tailor traction systems as needed, while manipulating the steering, drivetrain, and adaptive suspension.
Gas mileage wins little praise. The base GLS 450 is EPA-rated at 17/22 mpg City/Highway, or 19 mpg Combined. GLS 550 fuel economy falls to 14/19/16 mpg. The Mercedes-AMG GLS 63 is EPA-rated at a dismal 13/18 mpg City/Highway, or 15 mpg Combined.